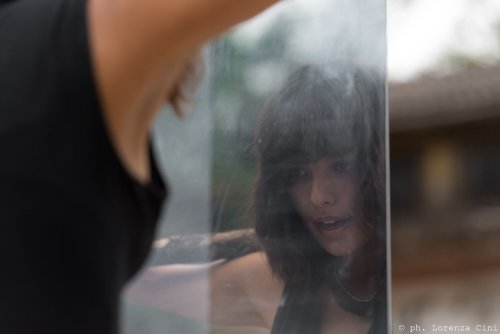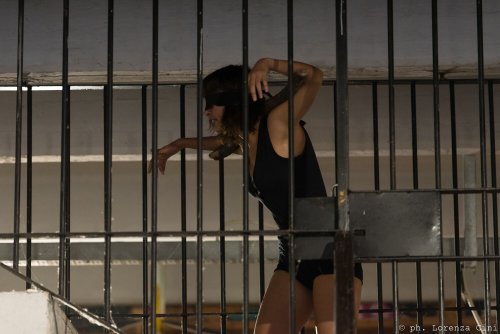 Rym Hayouni, performance artist and actress was born in 1996 in Tunis. She is a graduate from the Press and Information Science Institute and she is currently pursuing a Master degree of Research in Cinema Sciences. After several years of training and practice in theatre and theatre dance, she turns to Performance Art as a practice that goes beyond the singular and specific expressivity to open up to any form of experimentation.
In 2016, she co-wrote her first performance duo during her artistic residency at Ateliers  Sauvages – Algiers and since, her status as a performance artist has taken shape in various projects such as Stay – Contemporary Performance Creation. In 2019, she participates in the International Art Week of the Venice Biennale, in the Vest&Page Art Camp "Dissens-sus" 
Her approach consists of apprehending the situation in its moment and extending it towards a logic of action. Her artistic practice takes shape in a triangle between the body, the materials and the audience.

ARTFORM
Performance.
MATERIALS
E-waste objects.
ART PERFORMANCES
2019| Venice.it | WEEK ART PERFORMANCE INTERNATIONAL VENICE | DISENSUS performance
2019 | Tunis.tn | OPERA THEATER | Co-creation of STAY performance
2019 | Tunis.tn | HORS-LITS FESTIVAL | REMAKE performance
2017 | Alger.al | LES ATELIERS SAUVAGES | OMBRES DE REGARDS performance
ART RESIDENCIES
2019 | Tunis.tn | Cine'parcours
2017 | Alger ctr.alg | Les ateliers sauvages
ARTISTIC EXPERIENCES
2019 |  Tunis.tn | UTOPIA Prod | actress
2019 | Venice.it| International Performance Art Week| Summer class and public presentation
2019| Tunis.tn | DEBO TUNIS | Prose writer and performer in the show "Remake"
2019 | Tunis.tn| CIE Mouvma dance  | Performer and artistic collaborator
2019 | Tunis.tn | L'art rue association | Performance workshop
FORMATION
2020 |Higher school of Audiovisual and Cinema | Master Degree Of Research
2018 | Manouba.tn | Institute of Press and Information Sciences | Bachelor Degree
BIO
Currently living and working in Tunis.
1996 | Born in Tunis.tn
LINKS
FEATURED IMAGE
Rym Hayouni.DIS-SENSUS. The Venice International Performance Art Week, Venice, 2019.Photo Lorenza Cini